America Motorhome Holidays
Motorhome holidays are a fantastic way to travel, offering the opportunity to experience numerous destinations in one trip at a pace that suits you. With the convenience of a motorhome, you can take your home comforts on the road with you, for a more relaxed and cost-effective mode of travel.
What makes motorhome holidays so popular is the freedom they provide – you can decide how long you travel for, where to visit and how long you wish to stay in one place for. You can also design your own route, for complete flexibility and the chance to craft your perfect holiday.
Cruise America has rented motorhomes to customers for over 40 years, offering expert guidance and fantastic standards of service. Each of the homes is built to provide the highest levels of comfort and a range of benefits, and rentals are available in 26 locations throughout the United States.
15 Days / 13 Nights Motorhome Hire with flights - Prices from €1,499pp
Call to receive your personal quote for your motorhome hire and flight options.
Vehicles
Cruise America offers the following three vehicle options, all of which are equipped with a fridge and freezer, kitchenette, microwave, air conditioning, shower and flush toilet, and power steering.
C19:
Fuel efficient and compact, the C19 is ideal for couples – it features a large double bed over the cab and a kitchen at the back of the vehicle. If you're travelling with a young child, the dining table drops to transform the dinette into another bed.
Sleeps a family of up to three people
Length: 20' 2"/6.15 metres
C25:
A medium-sized motorhome, this vehicle features a rear-corner double bed and a second double bed over the cab; as with the C19, the dinette transforms into another bed, making this particular home ideal for two couples or a family of up to five people.
Sleeps a family of up to five people
Length: 24' -25' / 7.3-7.6 metres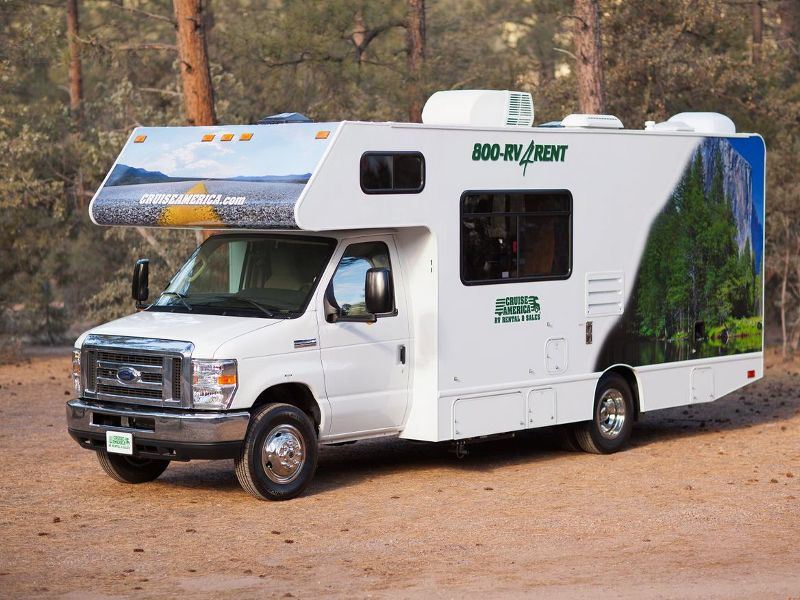 C30:
The largest motorhome in the fleet, the C30 offers a separate bedroom with a 5ft-wide bed, a double bed over the cab and a convertible dinette bed. The shower is also separate from the toilet and basin.
Sleeps a family of up to seven people
Length: Length 29' -30'/ 8.8-9.1 metres
How many miles are you intending to drive?
You will be asked how many miles you're planning on travelling, so it's worth considering which route you'd like to take. There are no refunds on un-used mileage so it's more cost-effective to have a good idea of your mileage when you're booking your trip.
You have the option to either buy in 500 mile/800km 'blocks' or pre-purchase unlimited mileage if you think you're likely to be taking a longer route. You can also pre-buy your mileage accordingly for savings on the per mile rate. In certain months, whilst travelling on certain vehicles, you may also be able to save up to 50% of the unlimited mileage charge for up to three weeks.
Personal Kit
Cruise America offer the option of a Personal Kit which provides you with your own bedding, towels and kitchen essentials such as pans and crockery. You can pay for these locally at the rental station but we advise reserving and paying for them in advance when you're booking.
One-Way Rentals
If you're going to be collecting your vehicle in one city and returning it to another you'll be expected to pay a one-way fee, which can vary between $200 and $600 depending on the route. Customers usually pay this fee directly to the rental station when they collect the vehicle.
Insurance
Insurance is incredibly important on any holiday and it is included in your rental price, which automatically covers you for up to one million dollars liability. Your vehicle is also covered for accidental damage but please be aware that there is a deductible excess, as with your car insurance back home.
For any damage incurred to the $60,000 plus valued vehicles, you may be charged up to $1000 towards each damage claim. However, this doesn't mean you'll automatically be charged the full amount for each claim; for example, if the repair cost is just $50 then that is all you will be charged. It's important to note that all insurance is invalid if the vehicle is being driven against the terms stipulated in the Rental Agreement signed at pick-up.
Deposit
The final piece of information you'll need is regarding your $500 refundable security deposit. This will be charged to your credit card (please note, debit cards are not accepted) and any extra mileage charges or damages will be charged against the deposit. Be sure to keep your receipts for oil as any costs for this will be credited back to you. It's important you keep the oil levels at normal – Cruise America will pay for it!
Campground Information
We can advise on the best places to find and book campgrounds. It's not always necessary to pre-book campgrounds but it's recommended if you're planning on travelling during peak periods or intending to visit popular attractions, as sites can book up quickly.
Big Attractions
It's recommended that you book in advance if you're planning on travelling close to popular cities or visiting top attractions such as Disney, Universal Studios or Niagara Falls. Furthermore, if you're travelling in July and August, or on the following dates, it's wise to book ahead: Christmas, Easter, Memorial Day in May, Independence Day in July, Labor Day in September and Thanksgiving in November.
Popular Routes
There are countless great routes to choose from but some of our most popular itineraries include Southern California, the Three State Triangle, New England and the world-famous Route 66. The Southern California route journeys from Los Angeles to such breath-taking destinations as San Francisco, Monterey, Yosemite and San Diego.
The Three State Triangle takes you on an exciting journey to California, Nevada and Arizona, while the Best of New England is a scenic blend of history, architecture and rugged mountain backdrops. For more information and routes tailored to you, speak to a member of our team today.